We act as your champion, from start to finish.
At PharmaDirections, we give our clients the strategy, roadmap and team they need to turn an idea into reality, always being mindful of budget and risk criteria. We identify ways to scale a concept­ — laying out the people and skill sets that will be required, defining the right path to follow and implementing/executing the overall operational game plan.
To get there, we assign a Project Leader to every assignment – someone who will drive the execution of a project by guiding a cohesive team of experts. Moreover, we maintain a staff of PMP-Certified Project Managers who have many years of direct pharmaceutical industry experience.
Do I need both a Project Leader (PL) and a Project Manager (PM)?
You may not. It all depends on the scope of your project. You will always have an assigned Project Leader. Yet in certain situations, typically full development projects, we also assign a Project Manager to ensure that nothing is overlooked and that every task stays on time and on budget.
At PharmaDirections, PLs and PMs have very different roles in the project. The PL is the one who, together with the client, sets the operational strategy and direction for the project and keeps everything on track at the macroscopic level. The PM manages individual vendors and tasks, making sure timelines and budgets are met on the microscopic level.
This paradigm is standard throughout the industry as it leverages the best assets of each resource in a cost-efficient manner.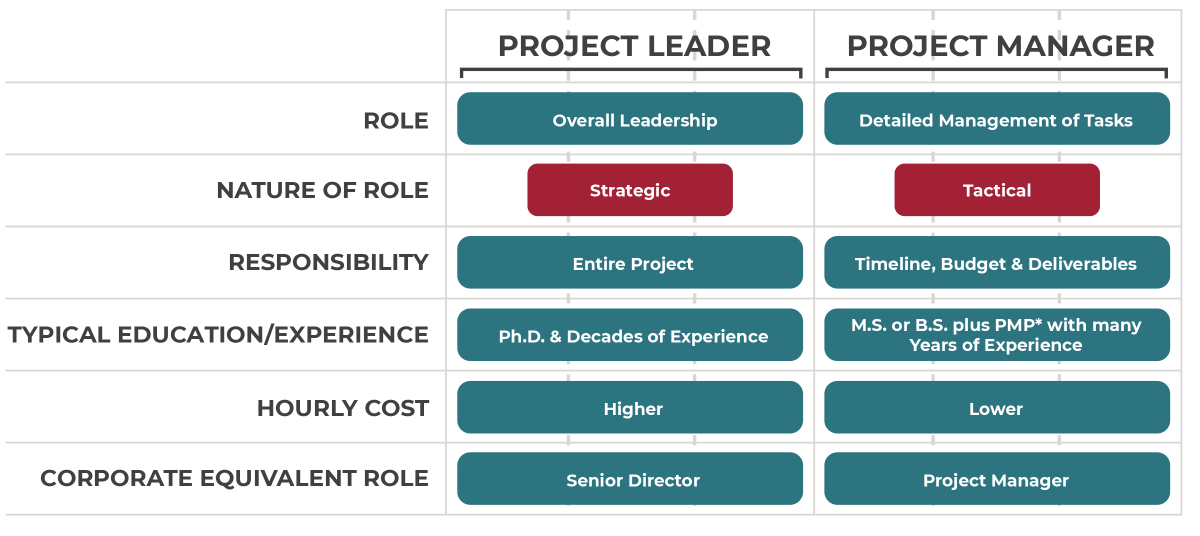 OUR PLEDGE TO YOU
By setting reasonable milestones and working hands-on to achieve desired outcomes, we deliver peace of mind and help you move one step closer toward fulfilling your vision.